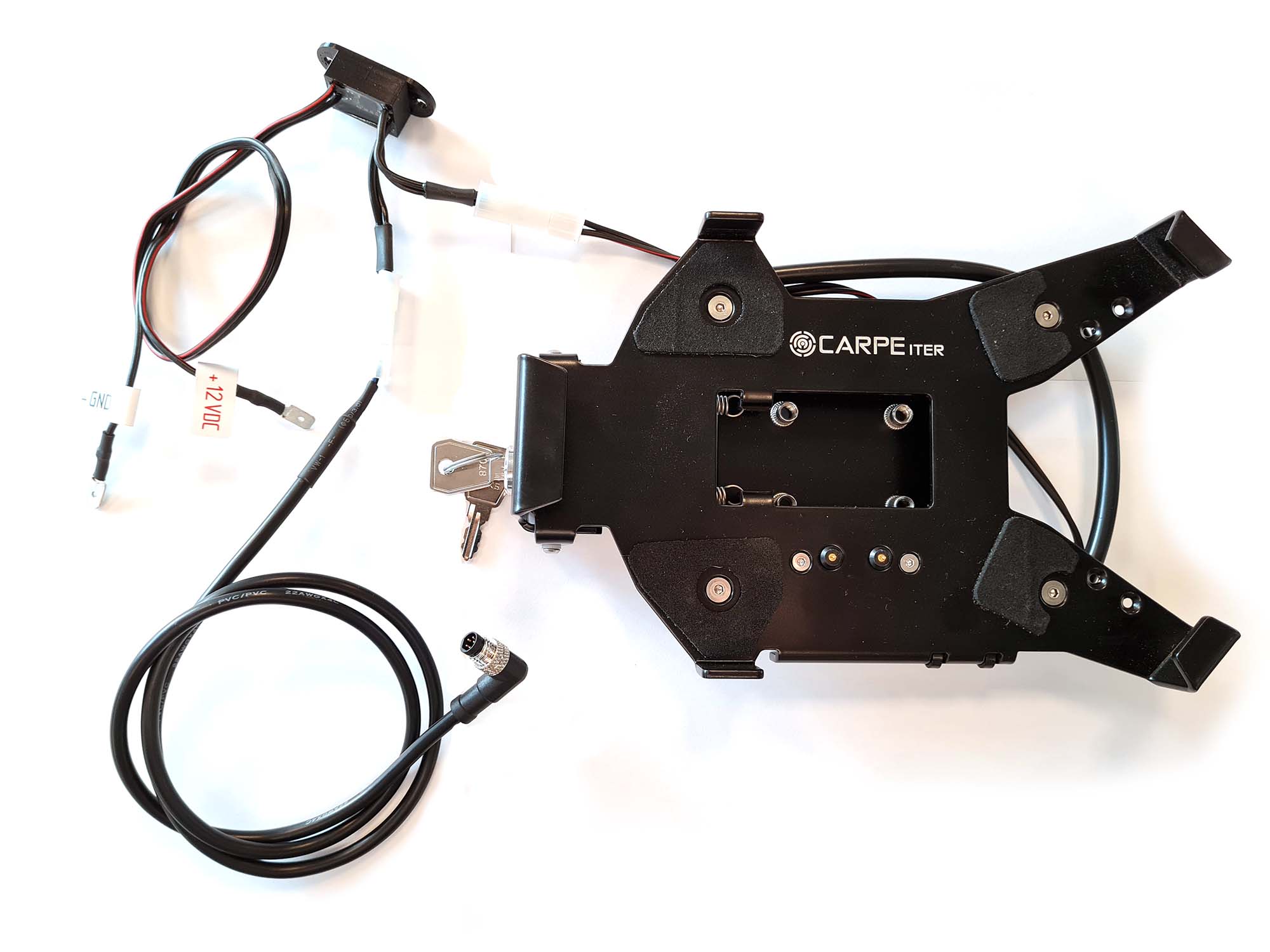 1
Contact Pins that charge the tab
2
Lock with keys to keep your tab secure against theft
3
Smart Power supply, will turn on when at least 13.1 volts are detected which means only when your engine is running. When it is on a green LED will lit.
4
Power connectors, connect all-black wire to battery negative and black/red wire to battery positive
5
M8 Screw Type connection (screws directly into the tablet)
Lightweight
Easy to attach and detach the tab
Vibration dampening
Includes lock with 2 keys
Standard AMPS bolt patter for compatibility
Includes Smart Power Supply (turns on when engine is running – at least 13.1V detected)
No power switch needed
Contact pins for tab charging on the go
M8 Screw Type charging cable
To fixate the holder in your motorcycle you need to have some sort of AMPS pattern base to secure the holder to it.
If you have a navigation tower chances are it already includes an AMPS base.
If you do not have any type of AMPS base, you need to have some sort of structure with a rod and buy an AMPS base to hold the tablet to it.
An AMPS base can be acquired here: https://www.thorkracing.com/en/produto/amps-base/
If you do not have any structure/rod to connect the AMPS base you should search GPS Holders specific to your motorcycle, usually the GPS holder will have what you need.
Alternatively you can check our handlebar brackets which all include AMPS base: https://www.thorkracing.com/en/produto/tablet-fixation-bracket/
GPS Holders with AMPS Base:
If you have something like this then the Holder is all you need, no additional hardware is necessary.
Examples of rod structures:
If you have a 12mm rod like this but no AMPS base then you just need to buy the AMPS base.
If do not have any of the above and want to secure the tablet to the handlebar we also develop handlebar brackets (they all include AMPS base/bolt pattern).
The power converter should be connected to a 12V power source, it includes two outputs, one for the holder pins and another to the M8 cable, you can use both connections at the same time.
All Black Cable: Connect to Negative (battery or other power)
Black and Red Cable: Connect to Positive (battery or other power source)
Please notice this is a smart PSU that only turns on when it detects at least 13.1V, which means it will only turn on when your engine is running!
This means you can connect it directly to your battery, but in case you have a Lithium battery (which can hold 13,1+V  even after engine is off) please connect the power converter to a power-source after-ignition, so that it turns off when you switch your ignition off.
Regularly check for loose screws and torque them as required;
Regularly check the Holder for bends (especially after a crash). Bent Holder might not ensure correct charging and secure retention of the Device;
Regularly clean the charging pins with electrical contacts cleaner. It is recommended that you use a cleaner specifically designed to remove oxidation;
Thoroughly lubricate the charging pins with electrical contacts oil or grease regularly and after each cleaning cycle (make sure the lubricant enters the charging pin body and does not stay only on the outside);
Use of electrical contact grease is recommended – make sure you push the grease inside the charging pin (compress the pin, apply grease. Compress the pin several times to make sure the grease enters inside the body of the pin). Using electrical contact grease will extend the charging pins life-span. It is recommended that you apply electrical contact grease on the charging pins before first use. It is NOT recommended that you use electrically conductive grease – it can cause short-circuit between the charging pins, if applied in excessive amounts;
All rubber and plastic parts and charging harness are considered a consumable – replace as necessary to retain proper function. All those items are available as spare parts.