Specifically designed for CI Pad.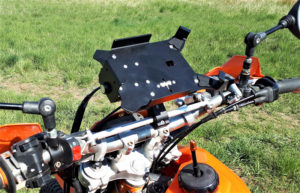 If correctly wired to your bike electrical system, it will continuously charge the CI Pad and keep it ready for use off the bike, too.
lockable
rubber dampers to reduce vibrations from engine and wheels
on/off pushbutton with LED indication
AMPS hole pattern (30x38mm)
rust-proof: all aluminum and stainless steel
powder coated for durability
Attaches to your bike electrical system via a split cable equipped with a quick-release water-tight connector.
This makes the removal /re-installation of the CI Holder very simple, without the need to mess around with cables – the section of the cable connected to your electrical system can stay on the bike permanently.
Cable length between connector and fastons – cca 35cm, total length from CI Holder 65cm.

The cable is equipped with standard 6,3mm male fastons. Some bikes, like most KTM dual-sport and adventure models (e.g. 690 enduro, 990 Adventure) have auxiliary power outlets under the mask with female 6,3mm fastons. Installation of the CI Holder on such bikes is truly plug-and-play – just slide the male fastons on our cable to the appropriate female and you are done. 
---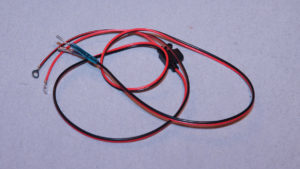 In case you would like to connect CI Holder directly to the battery, you can get our cable extension with female 6,3mm fastons on the CI Holder side and battery loops (diameter for motorcycle battery) with fusebox on the battery side.
Total length cca 145cm.