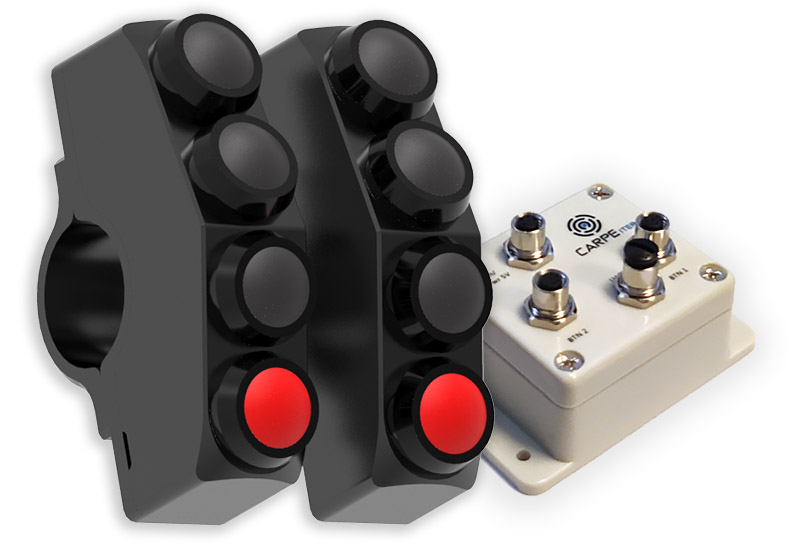 1
Joystick with Up / Down / Left / Right and Center Click
+ Center Click Long Press for extra feature
2
2x Separate four button kit
3
Big resistant rally buttons
5
Circuit box with power supply + battery
6
Magnetic wheel sensor connection
Rugged CNC billet aluminium with hard anodization, bluetooth controller for motorcycles.
System in a box that connects to your bike power
With backup internal battery, a single charge lasts for weeks.
Allows you to control over 20 Android navigations apps with the same control scheme.
Allows connection to magnetic wheel sensor
Intuitive and easy to use app to setup and manage the controller.
Currently our Controller works only with Android devices.
Minimum Android version is 5.1

Your device needs to have BLUETOOTH

You will need to be able to connect to the internet to install the CI Control App

You need to have a power line in your bike to connect the circuit box power supply to it

You need to find a secure and stable place to hold the circuit box
2x Four Button Controller
2x Handle Bar Bracket
4x Bracket Screws
1x Circuit Box with all the connectors
1x Power / Wheel sensor cable (for Circuit Box)
1x Wheel sensor cable
*When bought alone it will include a power supply. Since our power supply includes two outputs, when your buy the Terrain Command with a CI Pad, only one power supply is sent (one power supply for both devices)
Application Name

Drive Mode Dashboard
OSMAnd / OSMAnd+
Locus / Locus Pro
TET – Trans Euro Trail
Spotify (Player View)
MIUI Music Player
Google Play Music (Player View)
Google Maps
Sygic
Guru Maps
View Ranger
Mapy.cz
Backcountry Navigator Demo
HERE WeGo
TomTom Go Mobile
Wikiloc
Waze
MAPS.ME
ORUX
Calimoto
Google Earth
Kurviger
Copilot
Minimum Android Version

Android 5.1
Android 5.1
Android 5.1
Android 5.1
Android 5.1
Android 5.1
Android 5.1
Android 7
Android 7
Android 7
Android 7
Android 7
Android 7
Android 7
Android 7
Android 7
Android 7
Android 7
Android 7
Android 7
Android 7
Android 7
Android 7
Compatibility Quality

* * * * *
* * * * *
* * * * *
* * * * *
* * * *
* * * *
* * * *
* * * * *
* * * *
* * * *
* * * *
* * * * *
* * * *
* * * *
* * * * *
* * *
* * *
* * * *
* * *
* * * *
* * * *
* *
* *
Drive Mode Dashboard
OSMAnd / OSMAnd+
Locus / Locus Pro
TET – Trans Euro Trail
Spotify (Player View)
MIUI Music Player
Google Play Music (Player View)
Google Maps
Sygic
Guru Maps
View Ranger
Mapy.cz
Backcountry Navigator Demo
HERE WeGo
TomTom Go Mobile
Wikiloc
Waze
MAPS.ME
ORUX
Calimoto
Google Earth
Kurviger
Copilot
The two controllers can either be installed both on the same side of your handlebar or you can install each on a different side.
The installation in your handlebar is really simple, just secure it with the two included brackets.
Each controller will have its own cable and you need to be careful since one of them will have a label with a "2", that means the one with the "2" needs to be connected to the circuit box port 2, labeled "BTN 2".
The controller connectors have a correct plugging position.
Please look at both the controller plug and the circuit box connector to match the position.
Not doing this can bent the pins and damage your connector.
We test all products before shipping, warranty will not cover damage done to the connector pins.
Wheel Sensor Connection
The connector for wheel sensor (image on the right, black/yellow cables) is intended to be used with a standard magnetic wheel sensor.
Chances are your bike already includes one and is connected to your gauges, in this case you need to either install a second sensor or re-route the connection to the Terrain Command. You should NEVER connect both the Terrain Command and the bike gauges at the same time, this will damage the Terrain Command.
To take advantage of all the controller features you will need to install the CI Control App.
With this app you will have be able to:
Quickly setup the device connection
Monitor device connection and battery level
Configure the wheel sensor (wheel size)
Choose a specific app profile or let the app manage it automatically
Access the controller HUD (over any app) for quick shortcuts:

Screen Brightness
Lock Screen Touch
Control Volume and Media Player
Plus many other features