After you install the Ci Control app the first thing you will see once you open the app is permissions requests. Please follow the screen instructions and allow all permissions for the app to work properly.
After permissions you will be presented with a connection request that will guide you to connect the Controller to your device.
View the video for a first run example.
Additional Recommended Steps
The Control app relies on a service that will monitor the Controller battery and broadcast specific commands to the system. To make sure this service is not killed by your device battery management software please add an exception for the app.
App settings and battery management settings are different for almost every manufacturer, please research about how to access app settings and how to remove battery restrictions for your specific device.
View the video for an example on MIUI devices.
1
Touch the Controller image to change controller options
2
Close the app (you will be prompted if you want to keep the service running, which is recommended that you do)
3
App options like starting the app when your device boots
5
Controller battery indicator
6
Tap to access speedometer view
This is the first screen you will see after you open the app and connect your device to your controller.
From here, there are only three screens:
We cover this sections bellow.
Everything else is information, like the battery indicator and the connection status.
The Exit button is self explicatory, but please notice that when you press it a prompt will show asking you if you want to keep the service running or not:
If you are still going to use the controller please select "Keep Driver" because the driver service monitors the connection and sends commands to the system.
Reset Current Connected Controller
When you select this option the current connected controller will be erased and next time you start the app you will get the first run screen asking you to configure a new controller.
This can be useful if you changed your controller (moved from a Terrain Command to a Ci Control or vice-versa), if you sent your controller for repair/replacement, or simply if you are having connection problems.
Start Driver on Boot / Wakeloc
The start driver on boot is particularly useful and recommended if your device (phone or tablet) is permanently mounted on your motorcycle. If this is the case, when you start the device, you want it to automatically and immediately connect to your controller.
The Wakeloc option is an "enforcement" to prevent the driver service from being killed (some devices battery management systems can do that).
Show Overlay Message
If you enable this option, the driver service will show you a message over any other app in case of connection problems with your controller. It will also ask you to press any controller button to wake it up in case the device is sleeping.
Wheel Sensor
This will open the wheel calibration view, where you can manually insert your wheel size or use the GPS calibration feature. Refer to this section for more information.
Automatic Profile Mode
With this option enabled the software will automatically detect which app is in view and adjust the control scheme to it. If you only use one app you can disable this option and manually select your app in the setting "Fixed Profile Selection"
Only Known Apps
With this option the control scheme will only change when the app in view is fully supported, this might prevent some false app detection problems but on the other hand it can also prevent your controller to work on Launchers and other apps where the controller would use common Arrow Up/Down/Left/Right and Enter.
HUD OPTIONS
Sync System Max Brightness – This allows the app to learn the maximum system brightness value, which will make the HUD brightness controls also sync the system menu brightness value.
HUD Override – The HUD includes a series of layers for the different options (Screen, Shortcuts, Media, etc), you can use this option to set a particular sub-layer as the default. For example, if you select Media, when you open the HUD it will only show the Media layer options.
Incoming Calls / SMS Options
These features are only available for the CI Pad v3 at the moment. With this option a HUD like menu will show up when you get a call, the HUD allows you to answer the call, reject it or reject it and send a pre-programmed SMS.
1
As soon as a good GPS signal is acquired a button will show here to start the calibration
2
Alternatively you can press this button and manually insert your wheel size
3
Here you can see the distance done (you need 2000m)
4
This will show you the pure GPS data (quality and speed)
Wheel Size Calibration
Here you can calibrate the wheel size for the speedometer feature (requires a working connection to the magnetic sensor). You can either use GPS data to automatically calibrate it or you can manually insert the wheel size (in meters).
1
Current speed from wheel sensor
2
Alternate between dark and light interface theme
3
Edit the total odometer distance
4
Reset the current trip value
Speedometer
The Control app includes a simple odometer where you can see and edit the current wheel sensor values. The app also broadcasts all values so that other apps can use them (implementation depends on the app developer).
The Control Scheme may change from app to app, if you are using a supported navigation app, as a rule of thumb you can use the scheme bellow as reference.
For other apps like a digital Roadbook the controls will obviously be different.
In case of Drive Mode Dashboard the Roadbook view even has its own settings that allows you to select what each button does.
The HUD is a quick toggle menu that will display over any app.
It includes useful quick settings like screen lock, brightness, media and volume control.
Check this video for a quick overview of all the HUD menus.
SCREEN OPTIONS
Touch Lock
Disables the Screen touch (useful when raining since some devices will get "touches" with rain drops).
Brightness Options
Raise or Lower brightness and enable or disable the Automatic Brightness
MEDIA CONTROL
Player Controls
Control the currently active media player, Play/Pause, Next, Previous
Volume Controls
Raise or Lower volume or toggle Mute Audio
ACTIVE APP
This entry will show specific option for whatever app is running under the HUD, currently the only apps with "active app" options are:
Drive Mode Dashboard
 OSMAnd
SHORTCUTS
This menu entry is currently under revision and will be changing, we will update this guide when its ready.
Connection Problems
When the Control App cannot connect to your device you should first check if the device is enabled.
Press any controller button and check if a blue LED light flashes when you press the button, if it does not you probably need to recharge the device battery.
If the blue LED flashes when you press any key the next thing to do is manually check if the controller is connected to your device in the Android bluetooth device list.
If it is indeed connected, and it still does not work, you should reset the connection.
The easiest way to recreate a proper connection is to remove the controller from the paired devices list and then start the CI Control App:
Button functions are not correct
For the controller to properly work it needs to be connected and it needs the Control App to be working properly!
The fastest way to make sure everything is working is just manually starting the CI Control app, when the app starts it checks if the device is connected and if everything needed is running.
A very important accessibility service also needs to be running, it is responsible for stuff like the HUD, so a quick test is press the HUD button it should display the HUD screen, if not, you need to make sure you gave it permissions to run or you may need to restart it, take this chance to also re-check permissions:
Your device Android version also needs to be compatible for all the controls to work with certain apps, please check the supported apps list to see the minimal Android version required for each app.
If everything seems to be working as expected and the control scheme is not correct for a particular application, please contact us by using our Ticket System.
Where do i download the Control App
If you have the CARPE Iter Tab then the Controller app is already installed, to make sure you are running the latest version please use the CARPE Updater app that is included with all CARPE Tabs, with the Updater app you can update all the other CARPE apps.
If you are not using the CARPE Tab then this was already covered in the first chapter of this manual. Please refer to this page.
On-Screen keyboard disappeared
Some devices, specially tablets, will disabled the on-screen keyboard because they see the Controller as an external keyboard.
You will need to allow concurrent use of hardware and on-screen keyboard (the on-screen touch keyboard you normally use on your Android device for typing). Click the notification that a hardware keyboard was attached and you will get menu that might look e.g. like this: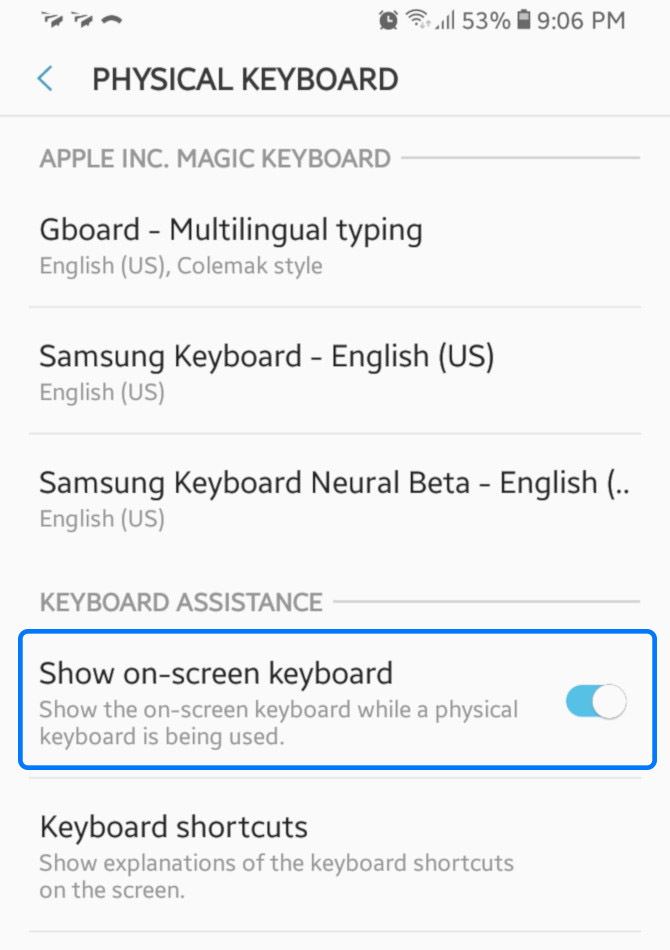 Alternatively, go to system settings on your Android device – "Language and input" and click "Physical keyboard" – enable "Show on-screen keyboard".
Operation considerations
When operating Terrain Command, exercise only enough force to have your input registered. Too much force will damage the Controller
Do not use Terrain Command below 5 and above 60°C or especially the battery and electronics can get damaged.
Do not leave Terrain Command circuit box in direct sunshine, especially on hot summer days – the battery and electronics inside can overheat and get destroyed. When you park your bike in direct sunshine.
Check before and after each ride that the bolts holding Terrain Command controllers are not loose. Torque the bolts, if required.