Using the CI Pad as a navigation device in conjunction with CI Control is largely connected to the support the various navigation software has to offer.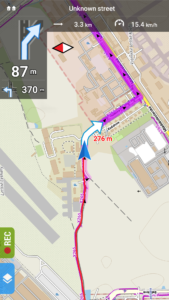 The latest firmware update released on September 25, 2019 expands the range of supported apps from Locus Map Pro to practically any touch enabled GPS app. The touch commands on CI Control support specifically Google Maps, Mapy.cz, Sygic and Locus Map simultaneously and when adjusting the zooming commands, Waze is supported, too.
Regardless the expansion of the supported apps, our primary navigation software especially for adventure and offroad riding remains Locus Map. It is an incredibly capable app, which features a complete voice and on the screen turn-by-turn guidance and route calculation.
The route calculation and guidance works on all "routable" roads. Unlike most navigation software, Locus Map is able to calculate routes and provide guidance also for (depending on the map source some or most) dirt roads and even tourist/bicycle trails.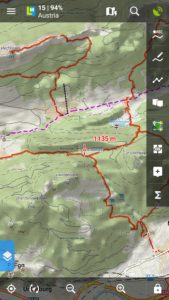 Where Locus Map really excels is adventure style navigation, i.e. making your own routes on the paved and unpaved roads and navigating the map when you feel like simply exploring the countryside.
There is a whole site available on how the app works, so we will not repeat everything here, but rather refer you to the source.
In cooperation with the Locus Map developer, full support for our CI Control was implemented in the Locus Map Pro app. That ensures there will be only few occasions you actually need to touch the screen during navigating and all the rest is taken care of by the CI Control from your handlebars.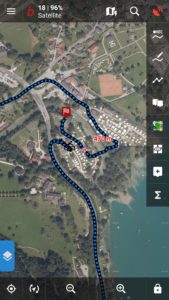 The CI Control supports a host of commands, which can be set to any of the available buttons on CI Control, such as: map panning, zooming, switching way-points, changing map source, tweaking settings, starting/stopping route recording, starting navigation to predefined way-point/POI and many others.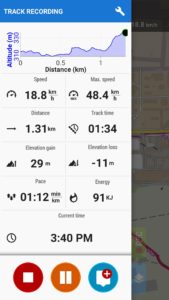 Locus Map is originally developed for hiking and cycling, it features an excellent support for Geocaching, which means using the app for Motocaching will be a breeze. 
Since all that can be done by your thumb alone, there will be no need for you to stop the bike, take off gloves and start surfing your touch-screen.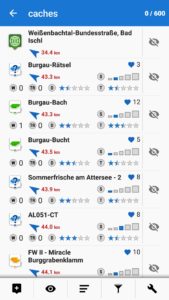 Safety first, so we do not really advise you to operate your navigation while riding, but if you must, it will be far safer to push a button to move the map, zoom in/out, …, rather then trying to accomplish that with your gloves on through the touch-screen. Especially in the off-road conditions, operating a touch screen is next to impossible, as opposed to pressing a button.
A license for Locus Map Pro is bundled with CI Control. That means, you can use the benefits of the Locus Map Pro app not only on the CI Pad, but any other Android device linked to your Google account.
If you would like to try the app, feel free to get Locus Map Free version. It is practically identical to Locus Map Pro, only misses some of the advance features.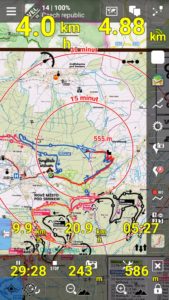 The Locus Map Pro will offer (among enhanced customizing and navigation features, such as voice turn-by-turn navigation) also customizable screen overlay, so called dashboards. Those will let you display additional information over the map, such as speed, heading, distance to way point, ODO meter and many others.
But of course, if you want to use another software for navigation tasks on CI Pad, feel free to do so. The only drawback is that there might be only limited or no support for CI Control and you will need to operate it the classical way (touch screen).
There will be a growing number of apps that support CI Control, with the overview of functionality to be found on our site prior to the release of our system for sale. The support for CI Control, however, requires the cooperation of the respective app developer, so the list will fill as such support is actually provided to us.