Currently available CI Control app version requires latest firmware – please update the firmware on your CI Control.
For other devices than CI Pad (v1 and v3), download CI Control App v2 BETA on Play Store.
For CI Pad (both v1 and v3) download our Updater app – it will check that your Carpe software is up-to-date and will install updates as required. It will also offer the installation of Drive Mode Dashboard (May 5, 2020).
Video overview of new features of completely overhauled CI Control App v212 (published April 15, 2020): Youtube
UPDATED info: due to Google restrictions, the Play Store version of the app is 214. This version does not include phone calls and SMS functions. We are working to push full version of the app through, but it might take a while. In case you want to try full version of the app, please download the v212 version for v3 CI Pad linked above into your device and install it manually. Before you attempt installation, you MUST manually uninstall any previous version of the CI Control app (and CI Driver) on your device. You might need to allow installation for unknown sources (you will be prompted by your device to do so during install, if needed). 
Programming hints for older CI Control app versions (v210 and older):
Set Locus to use Carpe Iter as hardware controller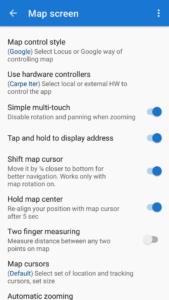 For the rest please see instructions for initial Locus settings under Locus tab